Serving Those Who Served For Us
Doug Overall, chaplain & bereavement coordinator in Prescott Valley, Arizona, explains how to nurture veterans in Hospice care.
Special Hospice Support to Honor Veterans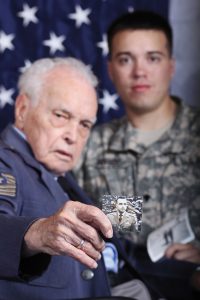 Special Hospice Support to Honor Veterans
The Japanese attack on Pearl Harbor, Hawaii, in 1941 stunned virtually everyone in the U.S. military.
Japan's carrier-launched bombers found Pearl Harbor totally unprepared. President Franklin Roosevelt quickly addressed Congress to ask for a declaration of war on, "Dec. 7, 1941 — a date which will live in infamy."
For men and women who served in our Armed Forces, their lives were forever changed by their experiences. However, for many, they returned back home to America, never to speak of those wartime experiences again.
I am reminded that hundreds of thousands of veterans suffer from combat-related post-traumatic stress (PTS) and its effects.
Dr. Warren Kinghorn, a staff psychiatrist at Durham Veterans Administration Medical Center, wrote in a recent article, "In 2012, more Army soldiers died by suicide than have died by hostile fire in Afghanistan." An estimated 22 veterans choose to complete suicide every day.
Compassus served World War II veteran Brian along his end-of-life journey. As his death neared, Brian reflected upon members of his troop who never made it back home and all the suffering he witnessed during their tour of duty.
I was humbled to be in the presence of this combat veteran who had not spoken one word of his wartime experiences to any human being until his death was nearing. Now his wife, children and grandchildren were hearing the horror that Brian had kept silent for nearly 50 years.
Our Compassus employees and staff are honored to serve all veterans: past, present and future. We never take lightly the ultimate sacrifices men and women make on our behalf
Sometimes veterans need communities that can offer the non-medical languages of confession, repentance and forgiveness. And above all, they need to be taken seriously as moral beings who have stood for us in hazy and complicated places and who now bear witness to what that commitment entails.
As Brian's death quickly approached, he needed sacred space to express the toxic memories that had haunted him.
Rituals can often help our veterans experience the confession, forgiveness and cleansing they are seeking prior to their death. Rituals are taking place all around us all the time.
I often urge individuals and families to consider some ritual or ceremonial observance of acknowledgement if that will help provide comfort and possible closure for the journey yet to be traveled.
We are privileged to hear their stories and to honor their wishes as they near the end of their life journey.
Compassus provides a continuum of home-based services including home health, infusion therapy, palliative and hospice care. Nearly 6,000 colleagues in 200 locations and 30 states provide high-quality care and manage patients' advanced illnesses in partnership with health systems and long-term care partners. The Compassus brand promise, Care for who I am, reflects its unique care delivery model, which focuses on each person as an individual as well as a patient, to improve their quality of life in a meaningful way.