How a Doctor Chose his Own Path to Hospice Care
Adil Mohyuddin, M.D., a cancer specialist in Tullahoma, Tennessee, knew all the fine points about hospice care. His patients trusted him to guide them through the flood of emotional decisions that come with a life-limiting illness. Even as a doctor with extensive experience, he struggled with choosing end-of-life care during his own cancer diagnosis.
"Adil was trying to enroll in one last chemotherapy drug trial," said his wife Sabina. "He was in pain and didn't think hospice was an option while waiting on the drug trial. When he finally chose hospice and got a pain pump, his mind and body had time to rest. He was more like himself. Although he passed away before getting in the drug trial, he didn't have the pain and stress that came before getting the pump."
Decisions surrounding the timing of end-of-life care can be difficult for patients and caregivers. Care tends to focus on treatments. Too often, decisions are pushed down the road until a patient loses the ability to share what matters most to them and how they want to live.
People with serious illness look to doctors for life-saving answers. Sometimes doctors reach the limits of what medicine can do. This is the time to think about the person rather than their disease and focus on quality of life.
Hospice is not about giving up. "The goal is not a good death," said noted author and physician Atul Gawande. "The goal is a good life—all the way to the very end."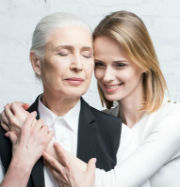 Hospice is a fully covered Medicare benefit
Coverage includes nurses, other caregivers, medicines, supplies, equipment and support, with no out-of-pocket expenses for the hospice diagnosis.