Hospice for Late-Stage Alzheimer's Disease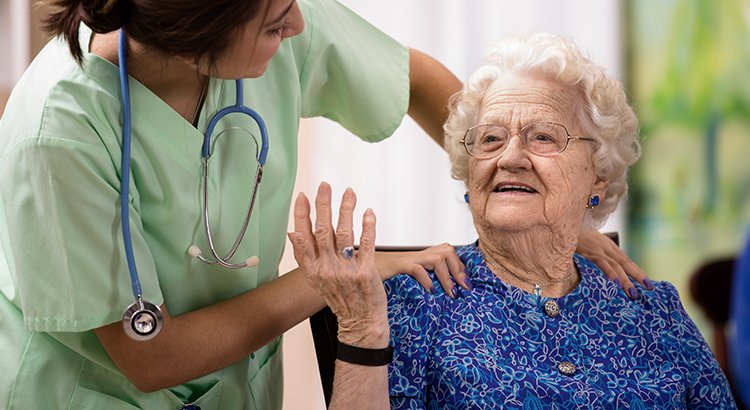 According to the Alzheimer's Association 2021 Facts and Figures, family members caring for an aging parent with dementia are twice as likely to say they have substantial emotional, financial or physical problems, when compared to other caregivers.
People with advanced dementia are rarely able to express their needs, which can spark frustration and agitation. Sometimes family members need help from professional caregivers. The 2021 Facts and Figures report states that people with late-stage dementia who receive hospice care experience less pain, reduced anxiety and fewer unplanned hospital visits.
"Our role is to lessen the burden on caregivers and connect the patient and family to life again," said Kurt Merkelz, M.D., Chief Medical Officer for Compassus. "Patients and caregivers are exhausted, but it's not wrong to think in terms of meaningful outcomes. Safety, dignity, beauty and meaning; these are things we all can experience as long as we are alive."
Hospice nurses and aides help with feeding, dressing and other practical matters. They can teach family caregivers how to spot and address the early signs of pain.
Care extends to families who need help navigating the medical system. The hospice team includes social workers, chaplains and volunteers who can lighten caregiving tasks.
While most agree on the benefits, hospice is often underutilized with patients with dementia because end-of-life prognosis is difficult. The complex interactions between the declining brain and the body make it difficult for doctors to precisely determine how long anyone with Alzheimer's can expect to live.
You may hear medical professionals talk about the Functional Assessment Staging (FAST) scale. It ranks dementia patients in 7 levels, based on their abilities with daily functions and activities.
Read in-depth information about the FAST scale and hospice eligibility criteria for Alzheimer's and dementia patients.
New worries during the pandemic
New worries during the pandemic
People with Alzheimer's disease are not more medically susceptible to Covid-19. However, they often require hands-on help with the tasks of daily living. This close contact with family members or nursing staff increases the possibility of infection. Many patients are older than 65 or have conditions such as diabetes that increase the risk of serious illness from Covid-19.
Nursing facilities are limiting family contact to protect patients. If visitations are limited, online communication that work with most patients can be challenging for those with dementia. The CDC has published reports that in-person family assistance inside hospitals or nursing facilities is sometimes appropriate when sharing important health information or providing emergency support.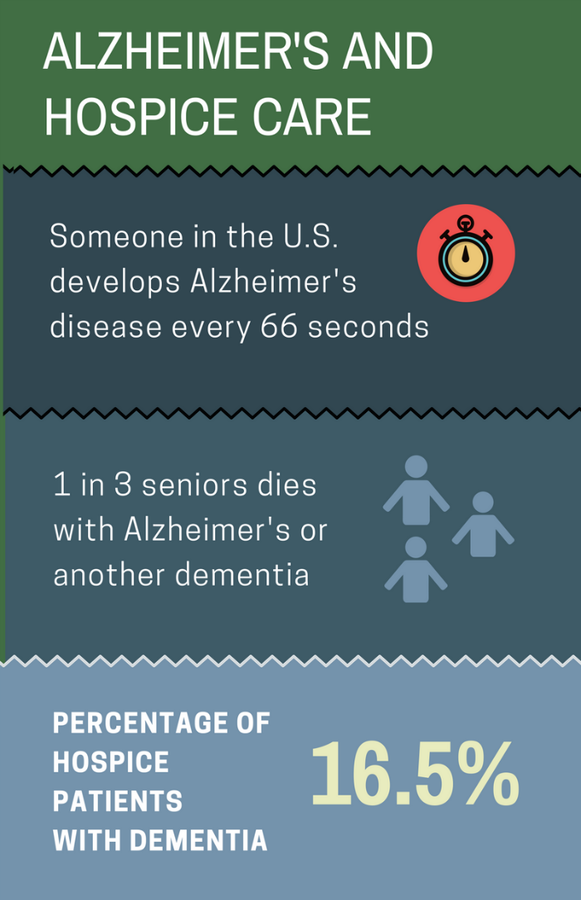 Unfortunately, many people don't consider Alzheimer's as a cause of death. In 2017, Alzheimer's is the 6th leading cause of death in the U.S. During late-stage Alzheimer's patients can lose the ability to walk, sit and, eventually, swallow. They are also vulnerable to infections, especially pneumonia.
Hospice can meet the myriad of care challenges during end-stage Alzheimer's. Some of those challenges include:
Behavior problems, especially aggressive behaviors
Loss of communication skills, leading to unmet needs and imprecise pain control
Difficulty swallowing
Managing infections
Chosing the right at-home hospice provider
Is the hospice provider Medicare certified and licensed by the state?
Are hospice caregivers trained for the unique needs of patients with dementia?
How will your doctor work with the doctor from the hospice provider?
How many other patients are assigned to each member of the hospice care staff?
Will the hospice staff meet regularly with you and your family to discuss care?
How does the hospice staff respond to after-hour emergencies?
What measures are in place to ensure hospice care quality?
Where will my loved one receive care?
Care can be provided anywhere a patient calls home. Most times that's in a personal residence, but it can also be in a nursing home or group home.